How to use anal beads.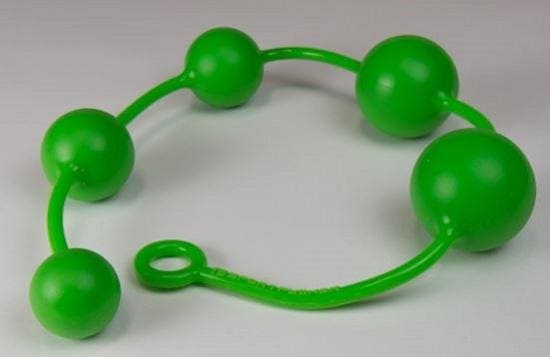 Anal beads are an interesting stimulant that causes many pleasant experiences. These are several balls connected by a flexible hitch. It is important to use this item correctly to get maximum pleasure. Simple rules will help use an accessory without pain.
Anal balls or anal beads are not at work among lovers of anal sex. They can be used by men and women, use can make orgasm is many times brighter. They are of different sizes, and are a number of beads walking one after another. Anal beads are made of glass and latex, as well as from silicone, plastic, PVC and metal.
What anal beads are there?
Erotic fun is used in sexual games to stimulate the anus. Anal beads can have different forms, mainly spherical or ellip.
There are different types of anal balls:
1. With the same diameter. All elements of the same size.
2. With different diameters. The first balls are less than subsequent. Gradual expansion of the anus with introduction gives additional sensations.
3. Embossed balls. The size can be any, but there are protrusions, antennae, spikes or other elements that massage the sphincter when immersing and extracting.
The coupling of balls can be made of a variety of materials. The perfect solution is a silicone compound. If the cord is made of fabric, it is difficult to clean, it can absorb a lubricant or biological discharge.There are vibrating models for bright pleasure. Being inside, they give much more emotions. When choosing, it is important to pay attention to sizes. For beginners, the largest ball should not exceed a diameter of 3 cm. This is enough to enjoy.
Rules for applying anal beads
In order to get an unforgettable pleasure from the use of balls for the anus, it is necessary to take into account a few simple rules.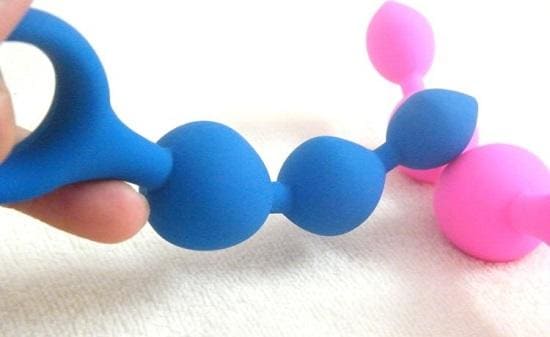 Before using the accessory, it is necessary to conduct Hygienic procedures. An enema is used, it is also possible to independently empty the intestines. Extraction can be quick, and if the intestines are full, there may be unpleasant surprises.
Another important point is grease. There is no natural moisture in the anus, unlike the vagina, so before using the beads you will need to purchase Anal lubricant. The product is distinguished by the viscosity of the structure. The lubricant is applied to beads, and the anus is lubricated. If the balls are made from latex or from silicone, only a water -based lubricant is suitable.
For those who will use anal beads first time, It is recommended to introduce them with lying down, raising a little pelvis. The legs are sure to bend at the knees, the anus is relaxed.
Each bead is introduced gradually, Do not rush, This can cause discomfort. After the balls are inserted into the anus, your legs must be gently shifted and spread to enjoy. After the introduction of balls, you should go to other caresses.
As bliss occurs, the balls are gradually extracted from the anus, this is done slowly, although sometimes, fans of extreme, do it jerking it, but newcomers will not deliver pleasure to enjoy. Extraction to strengthen excitement, Makes an orgasm more interesting. The ideal moment for taking out – during orgasm, but you need to learn how to catch these suitable seconds.
It is easy to care for anal product. Anal balls are enough Wash in warm water, Using gel or soap. But boiling the product is not recommended. To remove all contaminants from the surface, you can use a special cliner for sex toys.
Safety precautions when using anal beads
With rectum disease, cracks and hemorrhoids are prohibited from using anal beads. Also, the toy is fun for personal operation, which should not be given to use other people.
Beginners It is recommended to purchase a toy for anal pleasures made of soft material. Give preference to models with beads of different diameters. This will make it possible to gradually get used to different volumes.
Do not purchase beads that will be strung on The rope is made of nylon. This product is not reliable, it is difficult to monitor its purity. It is recommended to put on a condom on this toy when using.
It is not difficult to use anal beads, the main thing is to comply with all the rules and recommendations to get an unforgettable pleasure.