Red room of pain: spacers and all for serious fixation.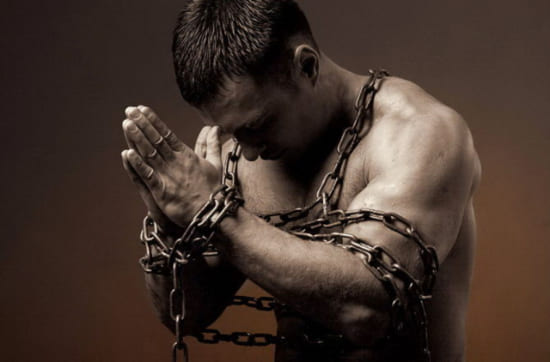 The most fierce porn in history was written by the Marquis de Sad. Try to read it "Juliet", "Justin" or a novel about a huge country house in which wild group orgies were happening, "120 days of sodoma" – And you will understand that "50 shades of grey" Compared to the fantasies of the Marquis -perverts that remained for centuries – a book for young and trembling virgins, which would faint from only two pages with not the hardest sex from the famous sadist. If you do not faint from anything, respect de Garden, You know what it is "A story about", In general, everything went too far – let's go, I will tell you about serious ways to fix the partner so that he definitely has nowhere to go.
We are terribly limited by the size of the bedrooms and We will be honest: the vast majority of us have not huge villas on which you can arrange thematic rooms of pain, And at best – your own apartment. To which friends or parents still come to visit.
At the worst – God forbid, there is a separate room from children and mother -in -law.
Although no, this is not the worst. It also happens that the room has to be divided into everyone, and sex – when the child goes to school.
This is all not about the severity of the apartment issue.
And about the fact that really specific and sprouting devices, such as all kinds of BDSM blacks "Guillotin", fixing their heads and hands, usually very bulky, and therefore not popular. And in sex shops they can't find them like that.
And any more or less serious fixers that are sold in the public domain primarily respond to two points: they can be easily and quickly decomposed or collected and they do not take up much space. But at the same time, they are still functional.
And if you have long passed the stage of satin ribbons, almost toy handcuffs, and you want more – there will be interesting things for you.
Go to watch.
Handcuffs and legs
The bulk of the BDSM accessories are actually intended for people who just indulge in the topic.
Usually these are simple collars or handcuffs. Which also sometimes have fur lining, so that it is softer (what a serious BDSM is already here), or even there are simply decorative – In principle, there is already enough light restriction to excite the brain.
But even among all that is sold for girls who love "50 shades", There are quite serious or just standing things:
For example, special leather handcuffs for hanging.
It looks So or like this, Moreover, the latter reliably fix the wrist of the suspended, plus have metal holders – when the lower pains, he wants to cling to something with his hands, so easier to endure executions.
Such handcuffs require a place to fasten. It can be a strong hook in the wall or on the ceiling – this is quite unearthly and can be carried out in any apartment.
By the way, a great set Fetish fantasy also created for suspension, and The hook for the ceiling is already in the kit.
So get confused only once – and you always have your room at home.
The option is simpler, which does not require the folk of the ceiling – Scandal, this is a system for fastening the doors – Strong capsules simply stick out between the door leaf and the box, and that's it – the partner is reliable "crucifix".
Suitable accessories for the topic There are Tom of Finland in the collection of the Finnish brand – this handcuffs And cuffs for legs With real locks. Plus the same collar (if necessary Land – it is sold separately).

Usually all clamps are made in such a way that the lower can remove them on their own. This is for safety. Only well -known people are not always found at sessions.
But let's not forget that Any limiters are still the symbols of the power of the upper. Accessories from Tom Finland exclude the possibility of independent removal.
Yes, they can be disconnected (by the way, they should take connecting carbines), but it will not be possible to get rid of these pieces without having a key.
Thus, Nizhny gives power over himself and will not be able to completely free himself without the permission of the upper.

There is a choice among sets of leather latches connecting arms and legs.
This is black skin with metal from Toyfa, powerful and brutal set from BDSM Arsenal, or Tough set From them.
As an option – set, which includes a leather mask.
…or not even connecting, but on This set It is worth paying attention: it contains everything that is needed for the session, including a mask and a whip.
Special raisins – interesting panties that open the clitoris.
There are a lot of fixers for those who do not believe that the skin should be an indispensable attribute.
Such fixers are made of tapes, and they are quite comfortable "in business".
This is classic Climber of wrists to the ankles (ideal for Doggi Stayl).
This is very cool Bondage by Lux Fetish.
These are belt sets from the German brand Orion – once, two, three, four – And this is not all.
Great set with hot name Extreme Hog-Tie Pipdrim, or they have – FF Heavy Duty Position.
By the way, the guys generally specialize in toys for those who like to bend or obey.
Separately, it is worth highlighting really beautiful and aesthetic, but at the same time quite working things: by Marcus – kit wrists-lodges, Or adjustable fixation wrists-cheers From the Scandal team.
Clutches and spacers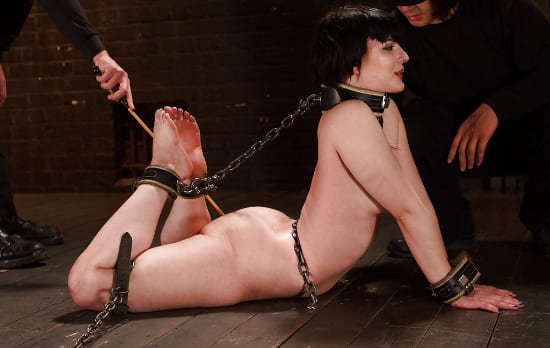 Roofing pieces that have no analogues for those who went too far, Meeting a hard brand from the USA – XR Brands.
For example, clamping tongue and lips (he is a lubricious machine :)) or practically torture Mill for the chest.
And the same guys have excellent Fixation with a metal clutch, limiting the movement.
And by the way about metal coupling and spacers:
Something similar is found in BDSM Arsenal: Metal Running rod for arms and legs.
Toyfa – Bonding set with X-shaped traverses.
Spacer Ouch Steel With comfortable legs or arms. The heroine of the cult film of the secretary wore something similar.
Hard, very thematic and adjustable from 65 to 120 cm. – Zado from the German brand Orion, leaving Nizhny at all any options.
Interesting kit with metal rods from Pipedream, and these guys know a lot about dominance and humiliation.
or aesthetic and designer spacer of the same ruler Scandal – A distinctive feature of the collection is a black and red print.
The coupling can also be on chains.
They are like relatively "decorative",and really thematic, where everything is serious enough:
This, for example, Climbs with chains From BDSM Arsenal
Toyfa Theater, which does not look too harsh, but greatly limits the movement.
Or bondage for deprivation of mobility Complete Leather, in which the neck, ankles, wrists and shoulders are simultaneously fixed.
Fixers designed for beds and doors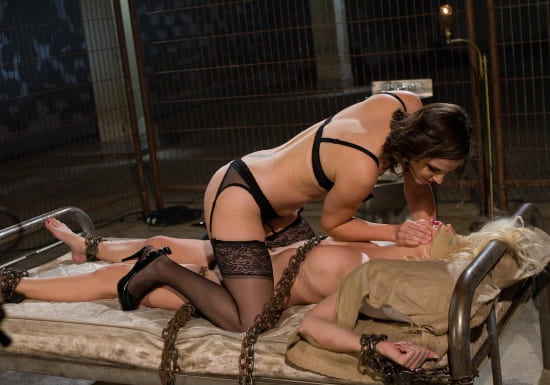 And now – about the most interesting. About sets that allow even the most ordinary bedroom to turn into a thematic salon.
Many people like to play in "Binding to the bed". For this, improvised means are often used, like ropes or scarves. People just don't know about options.
And they are. And very cool and aesthetic.
These are special bondage systems to limit a partner, which are laid under the mattress, Leaving only body mounts outside.
They are suitable for most beds.
And it's just damn convenient: such a system does not even need to be assembled after sex – you just hide belts and that's it!
No one ever, no children or friends who have visited, will guess what a surprise is under the mattress there under the mattress.
And yes, you do not lose time and excitement, trying to build ridiculous bindings from scarves or what else is there.
I just knocked a partner on the bed – and do everything you want with him.
Such systems have, for example, in:
XR Brends – Frisky Bedroom or Hold Me Under. Look at the pictures how it all looks in the case.
BDSM-Arsenal, Simple and convenient.
Orion Bad Kitty – cheap and really angry.
Pipedream – A very interesting system that fixes not only arms and legs, but also the body.
…and many other interesting ones, look right here.
And finally, another type of bondage systems intended for attaching on the door.
Easy to install and shoot – capsules -endors, which are simply clamped by doors. The only thing you need is really a strong door)
There are such things Pipdrim, In the collection "50 shades of grey", and further right here A couple of interesting gizmos.
In short, if your entertainment is not one -time in nature, And you know a lot about not only subordination and humiliation, but also in pleasure – get yourself something of these pieces. Say thanks)