What is BDSM: principles, practice.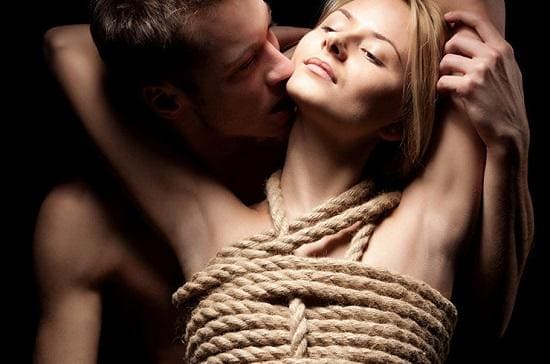 BDSM is a whole subculture that expands the boundaries permitted in relations with a partner. These are a number of practices that allow you to enjoy. They can be associated with sex or implemented without it. This is a step towards expanding your own frames and the path to incredible feelings that are difficult to get in another way.
Who practice BDSM?
Not many calls themselves supporters of this system. The BDSM community is in any large cities, but they are not numerous. People are not always ready to talk about their desires and preferences, and even more so demonstrate them in public. But at the same time, many experiments are conducted by many.
Today, interest in the hard BDSM grows as a result of the release of the film "50 shades of gray" and the book E.L.James. But they wrote about the topic before that. The most famous authors are the Marquis de Sad, Pauline, P. Coelho, Anne Rice and others. It is these works that often push people to experiments with subordination and pain.
Who most often try BDSM to taste and further applies practices?
People who are always looking for new emotions. Thanks to the subculture, you can really plunge into new experiences that are difficult to cause in other ways. Exposure give a hormonal effect, emotional sensations and include imagination.
Couples who became bored in sex. After many years of marriage, intimacy can bore. Experiments help to return the former passion. And although there are a lot of possibilities, one day every married couple begins to use BDSM. Even role -playing games are also the practice of this subculture.
People who are looking for emotional discharge. In society, a person plays certain roles, and he becomes their hostage. In the BDSM, you can change your role, try on a new image. For example, a successful and responsible businessman can turn into a lower, subordinating. As a result, for a certain time, he takes off his load of problems, trusting his top. Reverse transformations are also possible, it all depends on the preferences of the participants.
Enjoying pain. There are people who love moral and physical pain. These sensations can be obtained in real life, but without insurance. There are a number of restrictions and rules in the topic that make practices safe. The result of pain may be a special trance and beyond powerful orgasms.
Fans to hurt. Such people are called sadists. But this concept is not negative. If a person acts as part of an agreement and controls his actions – this is a source of great pleasure for a masochist. Understanding your inclinations and their correct application allows you to embody dreams safely and very exciting.
BDSM – what kind of practices are these?
BDSM is a clear distinction between roles paired. These are a number of practices that occur between people, and they are determined by some rules. Depending on the selected manipulations, the distribution of roles occurs and the boundaries of the interaction are discussed. For some people, BDSM is a game, an easy experiment, for others – a way of life.
The abbreviation contains information about the most common practices in the topic, as well as its main directions. 3 groups of interaction of people are distinguished, which can be called thematic.
BD (bondage & Discipline) – binding, restriction and education. Practices of humiliation and limiting mobility. Emotional impact, but often without intense physical pain. Although binding, mummification, etc. Experiments can cause discomfort in the body.
DS (Domination & SubMission) – dominance and submission. Emotional influences associated with the change of roles. One of the partners takes responsibility for the other, demanding submission.
SM (Sadism & Masochism) – sadism and masochism. Direct causing and obtaining physical pain. For implementation, special devices are used. Roles are defined, but actions may not be accompanied by moral humiliation.
Very often, directions in the BDSM intersect. The session may include elements of different directions, and this will not contradict what is happening. The purpose of all these movements is to gain pleasure by all participants in the process.
Two sides participate in the BDSM practices: the upper and lower. The former want to subordinate, the latter to be conquered. A person almost always chooses one of the parties. But there are those who change their preferences. They are called sweatshirts.
Why do you need BDSM?
The purpose of any session (BDSM of actions) is pleasure. Each of the partners receives its own high. First, it is the pleasure of expanding the boundaries. This is an opportunity to go beyond the most permitted for the majority. These are positive emotions from the realization of your fantasies.
Secondly, these are physical sensations. For example, during flogging, a person can fall into a trance state. It is called a subpace. In the process there is a change in the perception of pain, a person almost ceases to feel it. And bliss comes in her place. It lasts from a few minutes to several hours. Compared to orgasm from sex is a more intense experience that exceeds it ten times.
What does the top feel during practice? You can enjoy what a partner feels nearby. "Return" is the strongest feeling that is available to the upper. These are emotions, moral satisfaction and joy from the experiences of the lower. Can cause physical orgasm in the body. The sensations of the top are no less strong than the subordinate side.
Often BDSM Practice is a prelude to traditional types of sex. This is a way to achieve maximum excitation, and then getting sexual discharge. The intensity of experiences is so strong that the usual movements give many times more impressions, help to get enchanting orgasms.
The principles of BDSM
There are 3 important rules in the topic: security, voluntariness, rationality. Their implementation guarantees the lack of injuries, emotional shocks and unpleasant experiences.
Safety. The upper takes responsibility for the lower and controls its condition. It is important to carefully monitor the body and mental health. Pain, humiliation can harm, so it is necessary to correctly find the line between pleasure and danger. Years of practice are often required to learn how not to cross dangerous faces. You need to know the anatomy, psychology of personality, and also learn how to use all practices correctly in order not to create a threat to life and health.
Voluntariness. There is no coercion in the BDSM. People themselves agree to all experiments. At any time you can leave without explaining the reasons. And before the session the moments of the permissible. A person can abandon certain actions or communication. Even the restriction of movements wears the game moment. Upon the first request, the session ceases. Special Stop words or gestures make it clear to the top that you need to immediately stop acting and free the lower.
Reasonability. People in the topic are often driven by curiosity. And I want something new constantly. But you should always count your strength, and responsibly approach the preparation. Only thoughtful actions are acceptable during the session. Spontaneous things can be dangerous.
The implementation of three rules leads to a comfortable relationship. They allow you to build trust and understanding in a pair. Each practice begins precisely with a discussion of desires, with determining the boundaries of the permitted. And it is open communication that is the main step to the mutual satisfaction of what is happening.
Types of sessions in BDSM
BDSM practices can occur within the session or within the framework of a lifetime. Each couple decides for itself – what type of relationship to choose.
See session – This is a limited event, where satisfaction is achieved with the help of physical influences. Can include sex or pass without it. Partners discuss the rules of what is happening in advance and act within their framework. Moral humiliation may be present in the process, but you can do without it. Connect partners I can feel feelings or just a mutual desire to enjoy. They usually clearly distinguish the dominant and subordinate role. For practice, a tendency to obtain or cause pain is necessary.
DB session – This is a limitation of the mobility of the partner and its humiliation. Nizhny often provokes the top to punishment, and it is this action that leads to pleasure. Role costumes and BDSM atributics are often used. But there is no pain, more often there is a demonstration of power, and not BDSM torture. These are playing relationships with practices that give joy what is happening. The most common option. The session can be easy, for example, ordinary dressing – this is also BDSM Practice. And slap on the pope during sex can be attributed to this type of sessions.
DS session – can last up to several years. Nizhny (submissive) transfers all responsibility for his life to the upper (dominant). One of the partners makes decisions not only in bed, but also in life. Lifestail – a life in the style of BDSM – this is a practice that can last constantly. The main impact is psychological. Nizhny enjoys submission, tries to guess all the desires of the top and carefully follows his instructions. DS is also found in short sessions when partners do not live together. But it is never possible to change roles, and at a meeting, everyone is immersed in their duties. To bring such relations into life, you need a certain tendency to dominate and subordination. Without an inner sincere desire, the game will not last long.
BDSM – where to start?
If you want to try something new in sex and relationships, you should pay your attention to the topic. But you need to focus not on BDSM porn, where practices are often shown frankly and hard. Start with easy experiments.
Answer your question – What do you want to experience? What exactly fills your fantasies? Answers can be very different. For example, the desire for pain is not always the desire for hard cuts, bruises and abrasions. . And the desire for humiliation is sometimes the desire to be weak and helpless next to a strong man.
You need to understand what interests and in what intensity. Sometimes not actions attract, but objects. For example, the use of a bandage, whips, belts and handcuffs excites. But it is not always worth using them in full force, the presence and demonstrations are enough. Role costumes act similarly, they help to try on a new role, get out of the usual restrictions.
Try it Come up with the ideal script of the session, which will arouse you. What roles are close to you, what devices should be used? Do not think about decency, do not look back at the opinions of others, but listen to your own feelings. This will be enough for starters. Understanding preferences, it will be possible to tell a partner about them. And if there is no one, then it can be found. More details about the first steps in the topic and the most common scenarios read here.
Where to find a partner for BDSM?
You can try BDSM Relations with your partner. This is an opportunity to bring closeness to a new level. Frank conversations will allow you to get to know each other better and bring all desires to life. Joint practices will allow you to understand each other and avoid many conflicts.
But what to do if a partner does not want BDSM? You can look for a new one. At the same time, you will turn out to talk with those who are ready only for session relations, and with those who are looking for a life partner. Where to look for them?
On dating sites. Almost every similar site allows you to talk about their sexual preferences in the questionnaire. And it is for them that you can calculate the themes in your city. There are special sites for dating those who are fond of BDSM. The more details you reveal the information in your questionnaire, the faster you will find a couple.
In BDSM clubs. In almost every big city there are such. Those who wish can come to the meeting. Find information to work on the Internet. The entrance is always limited by some rules. Sometimes before getting into a party there are individual meetings with the organizers, which allows you to cut off inadequate personalities. If the club is not in your city, look in others and come to visit.
In groups on social networks. Many people gather in interests, no exception and BDSM. There are hundreds of communities on the network, where people communicate about the topic, get acquainted and exchange experience. To calculate interesting persons will not be difficult.
Practices and devices BDSM
There are hundreds of practices that can be attributed to BDSM. These include dressing, flogging, binding, humiliation, fetish and much more. Each action requires special devices. We have created a series of articles on how to choose products for BDSM sessions and how to use them.
Sexy fetish: types and features
Role costumes: types and features
Gag. Types, features, rules of choice
How to choose a device for BDSM Parca?