Porn story "The first experience with a transsexual".
My name is Kostya, I am 28 years old and I am the owner of an attractive appearance. Do not think that I am narcissistic, just the girls constantly surround me, so to speak, I am not deprived of their attention. In my years, I had experience with various representatives of the opposite sex: red, blondes, young or mature. All this led to the fact that I lost interest in everyday sexual relations. A different format of relations began to interest me more and more of me. On the Internet, I began to view information of various formats, among it there were porn stories, sites with tips on organizing gangbangs, and so on.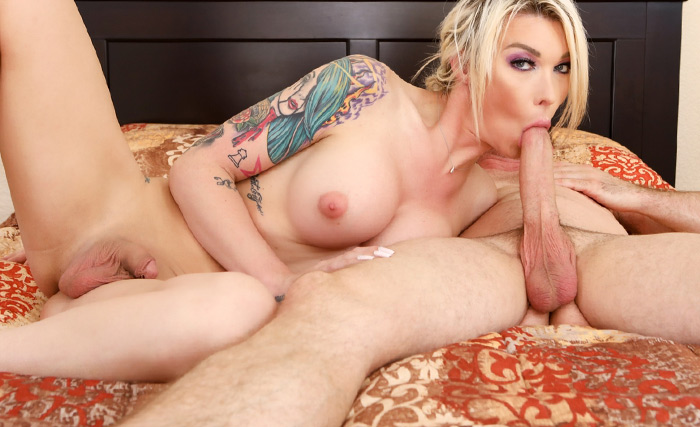 However, all this remained only in my head and I was not going to embody fantasies into reality. But frequent views on the Internet of various videos aroused interest in me. The homosexual connection did not attract me at all, but these transsexuals … There was something in them that excited me. The combination of a female chest, a small waist and a strong male member … This interested me and haunted me.
I fucked trance-porn stories
And then the day came when I finally decided … I did not have problems with ordinary acquaintances, I could always find a girlfriend for sex. But how to get acquainted with a trance just like that, I had no idea. But on the same resources with prostitutes, one could freely find this type of pleasure, I liked the "girl" named Anika. She had a third size, wide hips and a narrow waist. At the same time, there were photographs of not only these parts, but also a member who had a very large size. Despite all this, the presence of the organ did not scare me away, even on the contrary, interest only intensified.
I dialed the indicated number and in response I heard a pleasant female voice. We agreed that she will come to me. The amount in an hour was large, so I decided not to immediately organize it for the whole evening, because I did not know if I would like such joys to taste.
After work, I returned home, took a shower and opened a bottle of champagne. A few minutes later, at exactly the indicated time, Anika called me the door. She was perfect, exactly in the photo. In addition to a sexual figure, she had very beautiful facial features, it was difficult to believe that a guy was standing in front of me.
She went inside and I poured alcohol to relax. After two glasses of champagne, Anika headed for the shower. She went out in my robe and immediately went to me. I was already lying on the bed and anticipated what was supposed to happen next, I was worried. Anika threw off her robe without hesitation, and now I was able to see all her charms live live. Her large and red nipples were excited and cut the air, their appearance immediately excited me and blood began to grow to the member.
Her male organ also appeared on my view. It was large and with a large diameter, it was even larger than my. Honestly, his presence confused me a little, I could not even decide what to do next. Anika noticed my embarrassment and decided to start herself.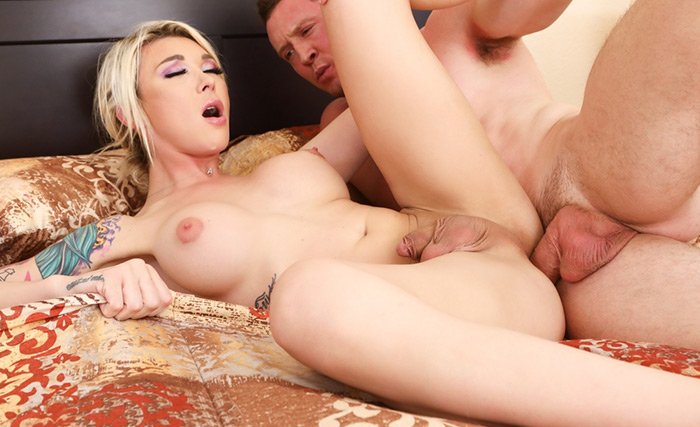 – As you want? Be an asset?
"Perhaps the first option," I have always imagined that I would be in a leading position under the porn historian with a trance.
She smiled and approached me, skillfully throwing off my trousers and panties. My member immediately appeared, which was already firm and ready for action. I have not experienced such pleasure for a long time, perhaps the last time I was so excited in the 9th grade.
Anniki's mouth opened, and she ran a tongue through my head. It was difficult to convey how good I was at that moment, it seemed a little more, and I would end, but I managed to restrain myself. She skillfully loomed circles on my organ, doing everything as it should. At first, her tongue was slightly touched only to the surface, as if teasing me, but at the same time exciting even more. Then she completely inserted him into her mouth, clasping his cock tightly with her lips.
The blowjob from the transsexual was magnificent. Anika guessed my wishes and adhered to the right pace. Her hands in parallel caressed my testicles and a scrotum, which, of course, poured oil into the fire and my excitement was kindled with renewed vigor.
She was a real craftswoman in this matter, at some point I wanted to visit the role of "Girls". And, apparently, Anika understood this through my eyes: at some point she got up and leveled out to her full height. Now her member faced my face. I hesitated for a few seconds, however, she did not retreat and repeated that I would definitely like.
Soon I managed to fully assess the size of its dignity. The head of the penis penetrated my mouth, at first I did not even know what to do, but Anika grabbed my head and began to move it back and forward. All this was new and strange for me, however – very exciting. I tried to please her, so she enthusiastically continued to work with his tongue, at some point her body trembled and I heard her excited voice, which, as it seemed to me, became lower at that moment.
– Where should I finish?
I pointed out that she could end my stomach, since I was definitely not ready for swallowing sperm. Soon her seed began to shoot at my chest and stomach. Warm liquid spread through my body, and I saw her smile. I was pleased that I could bring her so quickly to the peak.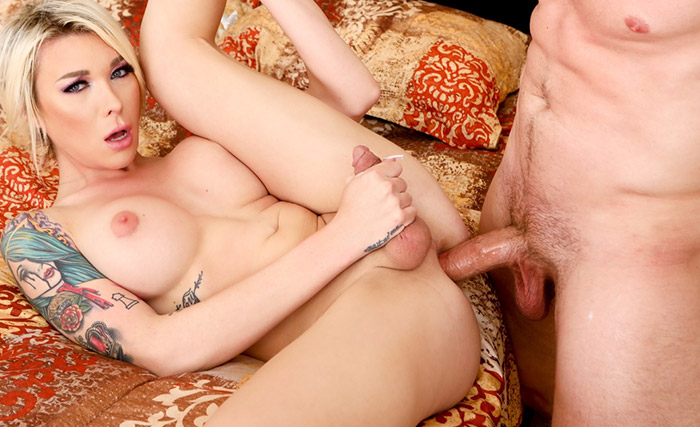 At that moment, something caught fire in me, I grabbed her leg and knocked her onto the bed, after that I turned it in front of me so that her ass was near my crotch. Her tattoo immediately caught her eye, which was very sexually around the rounded forms of the buttocks.
Sex with trance
Anika's ass was what needed. At first I gently ran my hand about her velvety skin, then slapped a couple of times. Apparently, she liked it, since she laughed playfully. After that, I began to drive my head between her two buns. I wanted to tease her longer, however, the excitement was very strong. Already on experience, the girl skillfully pulled out a special lubricant from her handbag and well processed her anal hole with her, after which she rushed her lower back and spread her two buttocks more and more tightly. Opposite my bed was a wardrobe with a large mirror. Thanks to him, I could consider the beautiful view that opened ahead. Her large breasts gently hung over the bed, a lustful face broke into a smile, but at the same time, a huge member stood with might and main and looked out from under the slender legs. Everything was exactly as in stories about sex with trance.
At first, I decided to prepare it carefully with my fingers, I had experience in anal sex, so I understood what was happening. My index finger began to draw patterns around her narrow anus and at that moment the room was filled with her moans. When one finger was not enough, I began to penetrate into it with the help of three. At that moment, it became clear to me that sex was ardent, since it was very narrow and pleasant inside it.
However, these games could not continue for a long time, my cock burned in full and I wanted to get into it as soon as possible. Finally, this moment has come, I slowly began to introduce my tool into it. At first, everything was tight and it was even hard to move, but the pleasure did not go anywhere, because from such a tight coverage I wanted to finish at the same moment.
Barely restrained, I began to penetrate even deeper. Anika inside was simply amazing, her anus was kept tightly by my cock and gave unearthly pleasure. At first I tried to move fluids, but then I completely lost control of myself.
More and more, I pushed a member into it under the wild exclamations of Aniki. Turning to her back, I took out my hands to her boobs with swollen nipples, squeezed them and then began to go down below to the level of the navel. I touched the hot trembling flesh of her penis and, as the bewildered, began to jerk off, squeezing the trunk with his whole hand and pulling the skin down. Sweat. Never before I touched someone's member, except for my. Soon I finished and released all my sperm into it, it was pleasant to fill her with my liquid and it was visible, then she also knitted from this.
Despite the fact that my cock just released a plentiful amount of sperm, it took only a couple of minutes to restore his previous position. Anika saw this, so she offered to try a new pose – 69. She laid me on my back, and she lay on me from above in such a way that her member was at my head.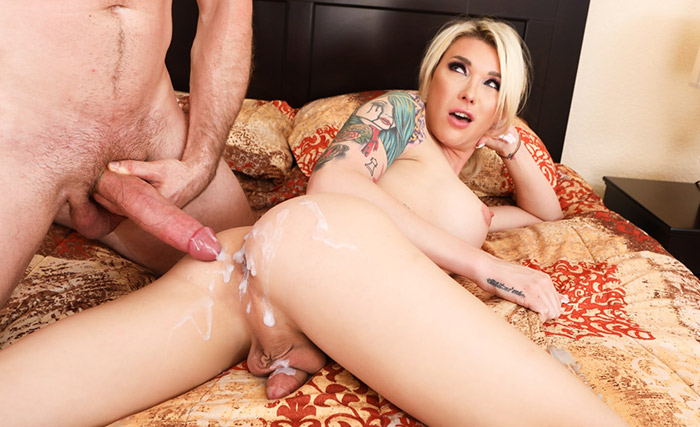 Of course, I already have experience in this position, but not when a penis appears in front of me instead of the vagina. However, I did not care, all this situation excited me crazy and I wanted more. We simultaneously began to suck each other a member. And it was unforgettable, Aniki's movements were amazing, she knew for sure what I wanted, and did it at the same moment.
I think that I also managed to give her a lot of pleasure, since soon my mouth was filled with her sperm. Despite the fact that she had already finished, Anika continued to take care of my member, which eventually provoked another shot from my friend.
When everything ended, we went to the shower together with her to wash off the whole sperm that we were covered. But even here everything was not done only by water procedures, Anika pressed her shower wall and lustfully rustled her back, again opening her lovely ass for me.
This time I fucked her even more, so she could hardly stand on her feet, so we just crawled to the floor. My sperm flowed from her back hole, and she was all in a happy smile.
When she left, she said that I should definitely try the role of a passive, as she can bring me a lot of pleasure. I smiled at her in response and said that I would think about this proposal and agreed to meet again at the end of the month.
This porn story about the first sex with a transsexual I will never forget. I think that someday I will decide and try to discover for myself another wonderful moments, since Anika complained to me to visit a special BDSM club, because there I will definitely experience an unforgettable pleasure.