Walk naked-porn stories.
I remember, since my school years, I loved to walk around the house completely undressed. During the summer holidays, when my parents went to work, I was completely alone at home and enjoyed my walks naked. Then I still did not know how this hobby would grow into a real porn story naked and defenseless.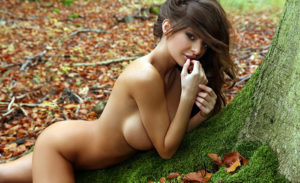 A lover of naked walks
At first I was insanely excited my walks in the apartment completely naked, but I began to become few. I came up with a window sill, because we lived on the fourth floor and all those who pass could see me. I did it at night, since I did not have the courage for daytime tricks. Sometimes I caught the eyes of strangers, but it was unlikely that they could really see me. After that, I began to try to go down the stairs naked. Initially, I went to the next door. I remember how the first time I went out into the corridor and immediately felt a cold breeze on my naked body. From this I immediately light up between my legs. Gradually, I was gathering courage and descended several spans below, anticipating and fearing how they caught me and freeze.
Some time has passed, I became older and my desires also grew up. I wanted to walk naked in more open spaces, and for these purposes I chose a landing that was behind our house. It was the outskirts of the city, so there was no high probability to stumble upon a crowd of people. Of course, I wanted to find a like -minded person and a partner for sex
, but so far I have not seen anyone suitable and decided to go alone. For my first walk, I chose a weekday and time about eleven, when everything is in my studies or work. Getting a little deeper into the landing, I threw off my clothes and again a pleasant breeze enveloped me. Despite the fact that now there was only spring, the air managed to warm up the sun, so I was not cold at all. Of course, the landing was still cooler than the street, but still it was a pleasant cold.
I walked along the overgrown path, there was a smile on my face. Trees leaflets walked along my skin and aroused many goosebumps. I especially liked it when the twigs of low trees tickled my breasts or hips, it insanely excited and fun of me.
At some point, I heard male voices and decided to get out of the road to hide in thick foliage. A few minutes later two men appeared who spoke loudly about something and laughed. While I watched them from the bushes, I heard my heart, which was beating very frantic. A new wave of excitement hit me. It was so cool, because I was a couple of meters from them and completely naked, but they did not even suspect anything.
Having ran my hand over my labia, I felt humidity, my crack began to secrete juices. At that moment, hunger rolled on me for sex, but it was impossible to quench him.
When they passed, I briskly jumped back on the track, turning around to them to make sure that the men left. But then suddenly I came across two young girls, they were about 20 years old. Both stood in a stupor and could not say anything.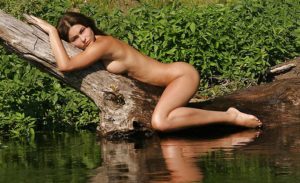 I myself was in shock, but at some point I returned to reality and quickly ran in the opposite direction. After this story about walking naked and meeting with these girls, I decided to be more accurate.
Now I aimed to make my promenade only at night. Yes, it could be dangerous, but I wanted it madly. After waiting for the darkness, I went on landing again.
At first, I was uneasy, but as soon as I was among the trees, the alarm immediately disappeared. It was so quiet and peaceful that I immediately threw off all my clothes and began to roam again among the greenery.
And so I stumbled upon the lake: of course, there was no strength to resist the temptation to swim without clothes, so I immediately ducked into it. The water was very cold, but active movements of my hands were warm. I bathed for a while, until I felt someone's presence behind my back. When I turned around, I saw the body of the guy who stood behind the bushes. He looked at me and actively threw his cock. But as soon as his eyes rose and met mine, he immediately interrupted his masturbation and ran deep into the trees.
Going ashore, I wanted to return home, but then I remembered how this naked stranger ran cowardly, and found something of my own in this, just the same way I ran away from those girls today. I wanted to shout to this guy in the wake: "Stop, I will not offend you, I understand you!", But still I restrained myself.
It became pleasant for me that I came across my like -minded person and again felt a surge of excitement. Sitting ashore at the edge of the lake, I spread my legs wide and began to caress the slit. There was no fear in me, this stranger did not frighten me, because we were like them. In my fantasies, I managed to imagine how we walk together in what my mother gave birth.
And then my secret stranger appeared again. He slowly walked towards me, fearing like a wild animal, but when he realized that I was not an enemy, he immediately sat down near me, as if we were old friends.
At some point, I gained courage and held out my hand, showing a friendly gesture. He did this in response, and we held each other's hands. But this was not enough for me, I involuntarily reached for him and hugged him tightly. In the embrace, we sat for a while. It was so pleasant when our bare bodies touched.
And then I felt his member resting on my stomach. In response, I began to move the body slightly so that he felt how hard my nipples were. Then his lips began to kiss the neck, I felt his small antennae tickled my skin.
Naked story about sex
After that, his kisses switched to the shoulders: I did not want this porn story, as I walk naked, end. The guy's tongue touched my nipple, I hiccuped in surprise, he made a short pause, then continued again. Having combined his chest, he began to lick two of my nipples at the same time and periodically draw circles around them. Suddenly his tongue penetrated my mouth, I tried to pull away, but he soothingly ran his hands on my hips and it relaxed me.
Then I leaned back on my back and spread my legs. Now his tongue began to penetrate my wet crack. I experienced a lot of pleasure. At first, everything was gentle and sensual, but then the stranger began to actively stick his tongue and eagerly fuck pussy. The control was lost, I squeezed the grass with my hands, and my mouth emitted lustful moans.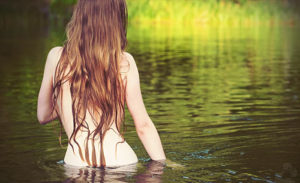 His lips were again on my neck and shoulders, and a hard and hot cock easily penetrated the bosom. This feeling of fullness made me experience unearthly pleasure and it seems to me that I finished so for the first time.
My orgasm was so strong that the contracting vagina simply pushed his cock. A stream of sperm began to shoot from the crotch and drain over his stomach. The climax shook me, breathed my breath. I tried to grab the air, I needed a break. However, the guy did not give me time to take a breath, his member penetrated me again and began to fuck even harder. I felt the second orgasm suitable. Again, the stream began to shoot from my vagina, and the young guy hollowed me like a frantic, trying to just break me from the inside.
And then the guy stopped. His member rested completely on my vagina, and the testicles were clenched. I felt his cock pulsate inside me, now it was his turn to end. On the one hand, it was pleasant, but the pleasure was replaced by horror, I did not want to become a mother and a victim of an unwanted pregnancy. I tried to break out, wriggled in every way and bend, but his arms were very strong, it was a real trap.
In this position we lay for a while. The guy did not pull out his cock out of me, who either hardened, then again became soft. His impulses softened my vagina and the guy again and again released his seed into me.
The stranger realized that he could no longer excite me, and his member is soft as a washcloth, so he decided to go to other caresses. The stranger made me insert my finger into his anus. I was tired and exhausted, I did not understand why all this was needed, but then before my eyes his cock began to harden again.
He now shoved his bolt into my mouth. The head was soft and smelled of its dried sperm and my discharge. All this caused me vomiting, which could not stop for a long time.
While I torn, the guy dragged me somewhere, moving away from the lake. My legs were weak and it was difficult to move them. Every time I stumbled, he grabbed me and continued to drag me along.
Tears and screams were meaningless, I already realized that I fell into the hands of a maniac, so I had to save my strength to compete for my life. Immediately in my head, a plan matured: he will clearly make him suck him a member before his death. And so I will do it so wildly and intensely that it will demolish the roof, and when it turns out to be as deep as possible, I will immediately click the jaw.
Finally, he dragged me to the old house, which was on the opposite side of the landing. I turned around and saw that the sun would rise soon, it became so bitter that maybe I would not see the dawn ..
When we ended up inside the Old House, he lit a lamp. The light was bright that I was not able to configure my vision. At first I heard the sound of a closing castle, then the stranger's face appeared in front of me: it seemed that it was a completely different person … He was not the young guy, but a thin man of about 40 years old, with a sluggish body, yellow teeth and rotten nails.
This monster wanted to continue. The maniac shoved me into the shower and pushed me to the floor, spreading my legs to the sides. His cock terrified for a long time about my tortured pussy, but could not restore strength in any way to go back to its original position.
Suddenly in his hands was a hose from the shower. He turned on the water to the stop, and the other end was well -lubricated with wet soap, after which he inserted himself directly into the ass. He tried to do the technique as in the forest, and, to my regret, he did it.
When the water began to enter the anus, the member right before his eyes increased in size. The head immediately began to enter my pussy and move in different directions. But, apparently, the pressure from the water was so strong that it quickly finished. Immediately the maniac made me kneel and shoved my cock into my mouth. On his hard head were sperm clots and he wanted me to lick her all. And then I swallowed, it was the right moment when I could realize my idea and bite off his dick.
When I remember this sex story with a naked man, I am amazed to myself. Right before the threshold of death in the human brain, thoughts may arise that are simply unrealistic in a normal situation. At that moment, when I sucked a nasty member of this monster and was already preparing to close the jaw, then a valve from the water fell under my hand.
Immediately I turned it out all the way and a strong stream of water poured into the ass of this maniac. Everything else happened quickly. His cock literally torn from my mouth, and his whole body was beating in convulsions. The hose jumped out of the ass with force and began to fill everything with water in the room. The peasant himself fell sharply to the floor, while hitting his head. Strong pain was read in his eyes, he did not even pay attention to the strong streams of water with which his hose beat.
There was no time to think, I immediately ran out into the corridor and went straight to the door. I managed to cope with the old castle with all my strength, and the street appeared in front of me. The dawn only came, and the sky managed to stain with clear shades. Warm rays so pleasantly caressed my body, it was quiet around and my heart began to gradually calm down.
The whole horror of this night went into the background, he drowned in the last day, and these rays of the sun began a new day. I walked along the wheat field, feeling the spikelets so nicely and gently tickle my skin. I don't know how many hours or days this man lay under the streams of water, but it was already indifferent to me, I did not want to remember more about him.