Massage candle: types, features of how to choose.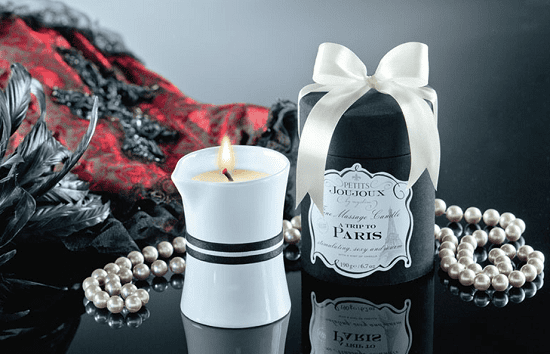 Massage candle is an aesthetic alternative to massage oil or a special cream made of natural components, in a rigid container and with a cotton wick. Absolutely safe and easy to use, much more interesting than classic oils, while allowing to add romance to any evening, to make it special.
What is a massage candle?
A massage candle is a kind Analogue of massage tiles, A mixture of pure oils with etheric, placed in a tin or plastic jar with a lid, or in a ceramic jug.
Most massage candles have a pretty good composition, the main ingredients are shi and coconut oil, just those oils that are usually in solid form, and additional ones are patchouli, ylang-ylang, grape seed oil, sesame seeds, etc. (The composition is based on the analysis of the Shunga brand massage candle). All oils used to create a massage candle – natural and highest quality.
What are the types of massage candles?
At the heart of all massage candles of shi and coconut oil, so they differ:
In volume. Small – 30 ml, medium – 75, 100 and 120 ml, large – 150, 170, 200 ml.
By design. Minimalism, gift packaging, handmade, tubes, etc.
By the format of packaging. Compact with labels, in plastic, in plastic jars with screw lids, in railway cans with snapping lids, candles-bundles of plastic or ceramic, with spouts, candles with spons in the kit, in gift packaging (hearts, flowers, flowers, flowers, flowersTubuses and so on).
By aromas. Fruit and floral, bright and slightly noticeable: cinnamon, apple, vanilla, chocolate, lotus, bourbon, pepper, mochito, bable, champagne, etc.
Which option to choose for personal use? The one that you like visually and has a pleasant smell. It is better to focus on your own preferences, and not on reviews. Impressions of intimate cosmetics are always subjective.
What is a massage candle for?
This is great An alternative to massage oils, More interesting and unusual. Among people there are many aesthetes that love beautiful life and bright sex. Why not love a beautiful massage?
With the help of such a thing, it is easy to turn a prelude into a bright action. The application looks very attractive. The fire helps to relax, warm wax relieves tension, and it tears a special aroma and excites. In combination with gentle touches, the use becomes very interesting.
In addition, due to the texture and high quality of natural oils in the composition, in massage candles they practically do not add harmful ingredients and impurities, if you evaluate the list of ingredients, then the candle often Better classic liquid massage oil.
Who will definitely like massage candles?
Massage candle is very gentle, elegant and pleasant.
The usual massage with it turns into a full-fledged spa procedure with muffled light and magical aromas in the air, with warm touch and gliding oil palms.
Massage candles will definitely like:
lovers of long preludes;
lovers of relaxation;
romantics;
fans of starting evenings-surgees;
those who want to surprise and please their soul mate;
kinesthetics and visuals.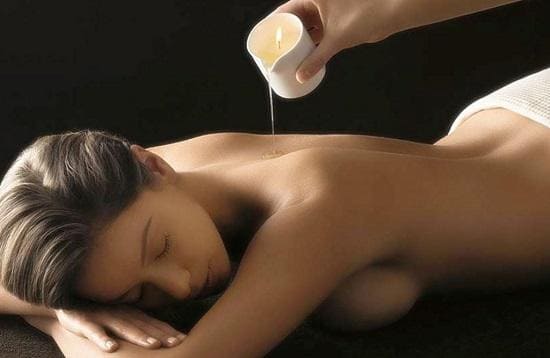 How to use a massage candle?
There are 2 most popular ways to use a candle for massage. The first is the most popular and simple, the second is long, but fascinating.
Method number 1
1. Open the lid of the candle, straighten the wick, set it on fire. Sometimes it may not light up immediately, this is normal.
2. When the wick is set on and further heated, the oils in solid form and imitating wax begin to melt.
To get the most comfortable texture in the right amount, it is worth let the candle burn from two to five minutes (some melt a little longer and can be left up to ten minutes, the condition can always be evaluated visually), observing the transition of oils from a firm state to liquid.
3. Based on the amount of "melted" oil, with the confidence that it is enough for massage, the candle should be extinguished. The optimal amount of oil for one person, with the calculation, for example, for massage of one zone – a tablespoon.
4. Let the candle cool slightly, stand for some time. You can touch the oil with your fingers, watch the skin reaction to its temperature.
No need to be scared, rush, you should do everything gradually and measuredly, with pleasure, The oil in the candle does not freeze far, there will be enough time for massage.
Often, many couples are in a hurry and greedy, as a result, they have to set fire to and extinguish the candle several times. Do not do it this way.
5. After you made sure of the textures of the resulting oil, you can start massage, you can pour both in the palm of your hand and immediately on the skin of the partner, smoothly and gradually distributing throughout the worked out zone.
Method number 2
1. Break off from a non -lit massage candle a piece hard composition. A pre -broken piece can be put in the refrigerator, then the sensations will be more interesting. You can even arrange a kind of transition from cold to hot, combining a cold piece with butter from a heated candle, you get full -fledged temperature games.
2. Group slightly in your palms, by analogy with massage tiles, and starting to do massage with a melted piece. Drive them on the skin of your partner or click between your fingers, stripping your back or neck. The oil will melt in this format Much slower, But this is also a very interesting way to turn the usual massage into an erotic ritual.
How the massage candle differs from the usual?
This is not some special wax, it is a specially created mass from a mixture of natural oils. Thanks to this, she melts from contact with warm palms, and her melting temperature is small.
Classic wax candle melts at T from 50 to 100 degrees, depending on the type of paraffin, and the number of impurities. When such a composition gets on the skin from a height of less than 40 cm, burns occur. Wax cooles for a long time, it can be dangerous.
Pure paraffin good quality (for example, aromatic) usually requires T from 36 to 55 degrees. Such a candle can be dripped from a height of 15 cm. But paraffin is not absorbed into the skin, but simply freezes on it. Hot drops give pleasant experiences, only with a large volume, strong burns are possible.
Stearin melts at t from 55 to 72 degrees. Can cause irritation on the skin, when it enters the skin, irritation often occurs. It is forbidden to use for delicate places: genitals, faces, neck.
Massage candle melts at a temperature of about 35 degrees. Models with soy or natural wax melts at t 40-45 degrees. Burns are impossible, even if you pour all the contents on the skin.
Do not experiment, trying massage with an ordinary aromatic candle from the nearest supermarket – so you can almost certainly get burns and irritations, rash, an allergic reaction. The fragrances that make up the composition may be dangerous.
Remember, a massage candle cannot cost too cheap because of the initially valuable ingredients.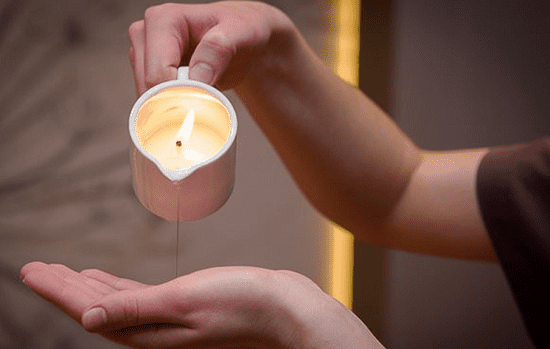 Safety precautions when using a massage candle?
Remember that natural and essential oils can cause allergies. Before using the massage candle, it is recommended to do allergic reaction test on the bend of the elbow and wait 20-30 minutes. If everything is fine, redness has not appeared, you can use it with pleasure.
Try to avoid particularly delicate skin areas – do not drip hot oil on the face or intimate areas, and if you really want to, pick it up on your fingers, rub it in your palms, and then apply it to the skin, and first make sure that it has cooled down enough.
The candle stopped looking attractive: what to do?
When the candle loses its attractive appearance, it becomes uneven and uneven, for example, a hole from the previously used oil forms in the middle, you can gently break off the protruding edges, fold around the wick, set it up, melt and smooth out with a spoon. Voila – a candle like new!
Than massage candles are so good?
A clear advantage is Moisturization of the skin, In this case, massage brings not only pleasure, but also benefit. She moisturizes really amazing, the feeling of delicate smooth silk skin will remain at least for another day, accompanied by an amazing aroma.
Most massage candles smells simply breathtaking, and Their smell is quite persistent. Therefore, if you really want to, you can use it at home as a simple aromatic, to create the right mood.
How to store a massage candle?
Most massage candles do not require any special storage. You can forget about candles with a lid. It is worth watching with open ones according to the situation if it is noticeable that the texture begins to melt or interpret, it is worth moving it into the refrigerator, and get it directly before use.
What details should you pay attention to when buying a candle for massage?
Format. Most jugs with candles are equipped with nose, it is very convenient to pour oil on the back of the partner;Tin banks with lids retain the aroma longer and do not allow to melt the oil, if, for example, it is hot at home, but it is not very convenient to get oil, you have to drip in your arms or climb your fingers, which is not very hygienic – the wax can stay on the bed, on the bed.table, on the walls of the candle)
The method of oil production. Some suppositories have spoons for oil, it is not bad, but the spoon, as a rule, are small, and you need to contact a candle several times.
Compound. It is always printed on the package. Only natural components are used that are safe for the skin.
Brands. Different companies produce candles, many have proven themselves only from the best side.
Volume. Large options are more expensive, but such candles are also consumed more economically, and in cost they come out more profitable.
Design. Outwardly the models are very different, and since they are often left in a prominent place, it is worth buying a candle for massage, which will fit into the interior.
Reviews of other buyers. These opinions are subjective, but help to learn more about a certain thing.
How much massage candle is enough?
It is definitely difficult to answer this question, since everyone has different oil consumption and frequency of use. If, for example, massage is 2-3 times a month, then a large massage candle with a volume of 170-200 ml Enough for about a year.
30-35 ml candles are enough for literally a few uses, they are more likely like Travel Size, try, try, get acquainted. Sometimes a massage candle of small volume ends after 3-5 times using.
But it's not a problem. Liked? Buy more, already more. Large packaging is more economical, buying a massage candle with a volume of more than 100 ml is more profitable.
What brand to pay attention to?
Among the manufacturers of massage candles there are popular brands of intimate cosmetics, but there are such that not by ear. Below is a list of top stamps, which should pay attention to.
Shunga. The best combination of design, prices and quality. The Canadian brand, which has been producing excellent intimate cosmetics for many years, decorates its packaging with exquisite Japanese erotic arts. Shunga is pure sex. Different volumes are available: from small plastic jars for completely symbolic money to large tin cans, which are enough for years.
YESFORLOV. Stunning suppositories of the luxury class, where everything is thought out: from a cardboard box to advertising pieces of paper and an amazing pyramid of aromas. Minimalistic, stylish, laconic – they just can't help but like! In addition, the jug is equipped with a convenient nose for pouring oil and decorated with a beautiful bow.
Petit Jojoux Makes the famous brand mystim. Great European quality and pleasant prices distinguish this brand.
Jimmyjane – It's like the last iPhone, in a stylish building, snow -white, they are perfect from beginning to end. Option for sophisticated lovers. Only Jimmyjane has a rich and unusual gamut of aromas.
Picobong – Brand of Lelo. Make wonderful miniature candles, very bright and modern. The price tag is quite acceptable, there is a whole set of three different aromas. Picobong chocolate and chili should try everyone, it is magical!
Concorde -A cool idea of a gift, they have a very beautiful design, geometric jugs of irregular shape, the name of the brand is written in a stylish ital, external packaging-tubus makes the unpacking of such a gift even more pleasant. Classical sweet aromas, pleasant price, production – France.
They have a separate series Plaisir Secret -budget massage candles in the packaging-heart. A pleasant little surprise for lovers, the anniversary of the relationship, etc.
How much does a massage candle cost?
Looking at massage candles, remember that a good composition cannot cost cheaply. Look at the rates of clean coconut oil or shi oil, and they are going as the main oils in the composition and are responsible for the solid structure.
Small candles (about 30 ml) start from 500-600 rubles apiece.
There are whole sets, in the region of 1,500-2000 rubles for 3 pieces, 3000-3500 rubles for 5 pieces.
Volumes of 80-100 ml start from 1,500 rubles, 100-200 ml from 2000 to 4000 rubles.
The price also largely depends on the brand. For example, candles Dona Pretty budgetary for good volume. Shunga the same, only a little more expensive than Dona, has a much more attractive composition of natural natural oils, luxury packaging, and have proven themselves as a leading manufacturer of intimate cosmetics. Petit Jojoux by Mystim has a completely natural composition and is placed in a ceramic vessel of handmade, which is fully justified by their rather high cost.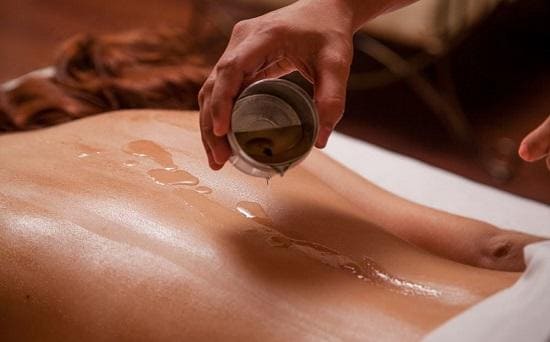 The most frequently asked questions about massage candles
We have collected the most common questions about massage candles. And they answered them as detailed as possible.
No, there will be no burn, natural oil melts at low temperatures.
No, not harmful. Carefully look at the composition of the massage candle – most ingredients are natural.
How the candle differs from massage oil?
Format, composition, appearance. The candle makes the process of massage itself interesting, more pleasant – due to the temperature of the oil, more beautiful, in the end.
Why such a price of a massage candle?
In its manufacture, natural oils are used, expensive on their own, and sometimes a ceramic vessel. Sometimes the price is slightly overestimated due to the prestige of the brand. Quality cannot be cheap.
Where to buy a high -quality candle, not a fake?
Massage candle is not the product that you can buy in the nearest supermarket or pharmacy. They are sold in specialized stores, sex shops. We have Large selection of models.
Reviews about massage candles
There are positive and negative reviews about candles for massage on our website. Read the opinions of people, But remember that they are subjective. When choosing, you need to rely on your own preferences, not the opinions of other people.
Sasha about the massage candle Shunga Desire Vanilla Fetish
Nastya about the massage candle Plaisir Secret Bubble Gum by Concorde
Olya and her husband Sergey about the massage candle Shunga Strawberry Vine
Anya about the massage candle Concorde Mojito
Katya and her husband Sasha about the massage candle Petit Joujoux Musk and Pachuli by mystim
Tatyana about Dona Scented Sassy Aroma Tropical Tease
It doesn't matter which brand and aroma you choose. We all have different preferences. The main thing – do not be afraid to try, you will not stay indifferent. Massage candle, a little wine, muffled light and erotic music in the compartment can become the key to an amazing, unforgettable and sensual evening.