What is a bilateral phalloimitator.

Double -sided phallimitator– This is a simple phalloimitator with heads at both ends. Their usual length is from 30 cm and longer, their soft flexible material, for example, rubber, gel or silicone, are made. They can be used both with a partner and independently.
How to use
What could be better than the phalloimitator? Only two phalloimitators.
Among toys that can give double pleasure, there is nothing better and more shocking a double -sided dildo. This unusual type can be used in several ways, independently or with a partner. If you decide to play on your own, then one end can be inserted into the vagina or rectum, and the second end is used to make tremors. You can use such a toy for double penetration. If a partner is next to you, then you can entrust him with the second end of the dildo and allow him to do all the manipulations. And, of course, do not forget to use it at the same time. This method will require some dexterity, creativity and, of course, a sense of humor.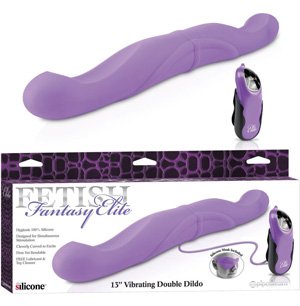 How to start
If you have never used bilateral phalloimitators, you should pay attention to some points. First of all, you will need the toy itself. Bilateral dildo are made in a wide range, some of them have the same ends, some of them have one end of the thinness of the second. There may be glass models that are shorter than 30 cm, but they can be heated in warm water or cool in the refrigerator. Well, of course, classic bilateral phallimitators from gel, silicone, latex, which easily bend under the angle convenient for penetration.

When the toy is bought, you should study it. Stick it gently, getting to know the shape and texture of the new friend. Then excite yourself or ask your partner to do it. Not forgetting to use a sufficient amount of lubricant, carefully enter one end into the vagina. If the sensations are pleasant, you can enter the second end into the anus. Once again it is worth focusing on the lubricant, it should be enough. Luburbicants on a water or silicone basis are very good and safe. Main – this is not to use the latter with silicone toys that he destroys.
Do not forget about cleanliness. Always wash the dildo after using a special cleaning agent or soap and water. If you use a dildo for anal stimulation or with several partners, then you need to be even more careful. Use a condom for every use of the phalloimitator, this is the best way to maintain the purity of the toy. Just pull it, and after a breathtaking orgasm, remove and throw it away.
We use with a partner
Exploring the capabilities of bilateral phallimitators along with a partner, you certainly need to talk to each other. Exchange your feelings with him so that if necessary, you can stop in time. You can use a double -sided phallimitator sitting with bent legs widely placed face to face or, becoming your back to each other and leaning forward. But most often it turns out that one of the partners takes an active role. Sometimes you have to hold the dildo in the middle with the help. You can come up with many poses and choose the most successful.