Blowjob in a condom: pleasure or safety?.

Often men claim that any sex in a condom, including oral, does not bring anything but discomfort. But are there any situations when even with a minute you need to carefully protect yourself?
Why a blowjob without a condom can be dangerous?
The first thought that arises when we hear about a minute through a condom: «For what?». Next, a common stereotype is recalled: «Blow – It's like sniffing roses in a gas mask». .
As a rule, everyone remembers that a condom – This is a familiar and affordable contraceptive that protects against the undesirable consequences of sex, such as pregnancy.
However, first of all, the condom minimizes the danger of infecting sexually transmitted diseases (STD). No, no one will give a 100% guarantee, but significantly lower the chances of catching an infection – What is not the reason to use the product number 1?
Another lesson in which men are rarely recognized, along with masturbation, – Sex with prostitutes.
All experts, as one, recommend and even insist on using a condom for any sexual contact with women of this profession, including with oral sex.
In addition to understandable causes – infections that can easily be obtained with pleasure from corrupt love – doctors pay attention to the fact that some bacteria and microorganisms that do not cause discomfort or do not appear in the oral cavity can cause diseases of the urogenital paths. be careful! However, the same recommendation can be applied in the case of oral sex with a proven partner.
Here is a simple example: herpes on the lips manifests itself on immediately, and the virus in the body is already present. The consequences of infection of the genitourinary system of a man can be much more deplorable than a small wound on a woman's lips.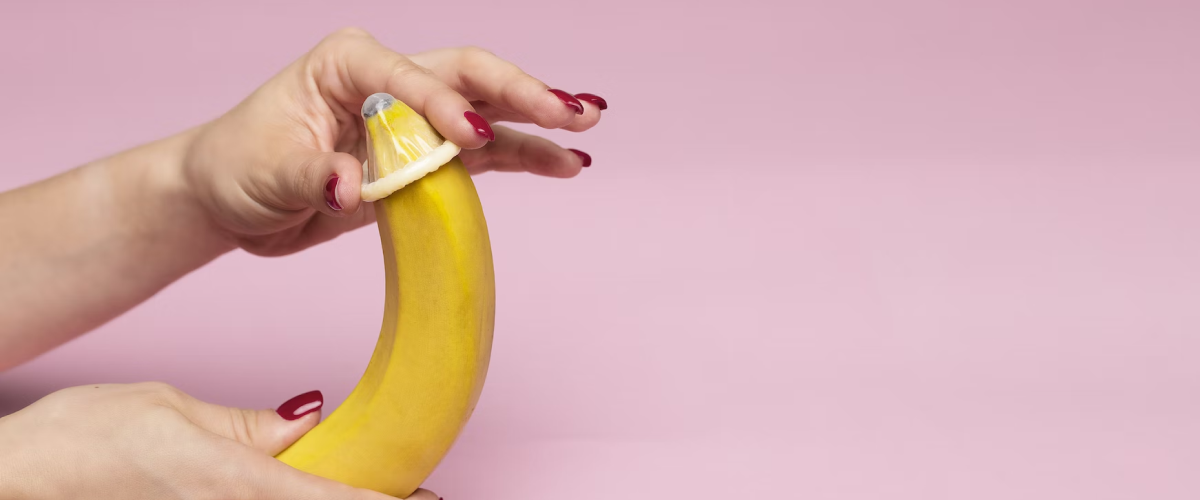 Blowjob in a condom – Great option for beginners
Often men discuss their sexual victories. They boast, describe the night or evening in paints, but at the same time complain about the inexperience or coldness of the partner. You can hear something like «Yes, she almost bit off» or «She has too sharp teeth» Or, the classic of the genre, «She doesn't know how to do a blowjob» And «She does not swallow».
If you came across an inexperienced partner, a blowjob in a condom can be a good solution for the first time, because:
+ Latex not only «Stole» You have part of the sensations from the partner's mouth, but also soften the pain if she suddenly hooks the sensitive organ with her teeth;
+ This is a great answer to the question «swallow» For those girls who have not yet decided and do not know how to say about it to a young man;
+ You can be sure that subsequently no troubles in the form of an unscheduled visit to the Wendid Resposite.
In addition, the process itself can be turned into a prelude or erotic game. And the girl will practice in putting a condom will not be superfluous.
«Behind» And «against» Blowjob in a condom
There is always a reason and an occasion for refusing sex with a condom, and what are the reasons for refusing a blowjob in a condom?
«Not at all the sensations». In fact, with a sufficiently thin material of the condom, its presence does not affect the fullness of sensations, but the skill of the partner is very vice versa.
The taste of rubber in the tongue does not contribute to a romantic mood. Conductors of condoms have long solved this problem, creating flavored lubricants and condoms with the taste of banana, strawberries, etc. D., So everyone can choose their favorite fruit or berry.
«So he/she doesn't trust me». No, the reasons can be different: from natural disgust, which is difficult to cope with, and to admit it even more difficult, to banal precautions and care for the health of the partner.
This is necessary only with random ties. Both yes, and no: the chance to infect STD exists even during intercourse with a proven partner. Only during random sex the use of a condom is mandatory, and with a regular partner – purely at your own peril and risk.
Infections, viruses, diseases, and Miramistin for what? Firstly, Miramistin is not a panacea, and its regular use can be harmful. Secondly, no one has canceled individual intolerance and allergies to the components of the drug. Thirdly, and this is the most important, always easier to use preventive methods than to treat consequences.
Of course, you can come up with a bunch of excuses and reasons not to use a condom during a blowjob, but if there is an acute need for this – Do not follow the partner and agree to the risk. Brown yourself in advance.