How to make sex in a condom is more pleasant.

There are people who believe that condoms reduce sensations from sexual intercourse. These are errors. Modern contraceptive means are so thin that they are difficult to notice. With the right choice and use, sex will be very pleasant, and Protective products will not interfere. You just need to follow a few simple tips.
Condom has a centuries -old history. For centuries, the functionality of the product has constantly complemented and expanded. Initially, it only restrained the ingress of seed fluid in the vagina, preventing the woman from becoming pregnant. Later, the condom also began to play the role of a protective barrier on the path of dangerous sexually transmitted infections. In modern models The spectrum of functions is even more expanded. Condoms allow you to make sex interesting and enjoyable.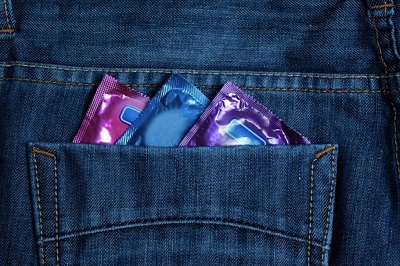 Correct selection
To make it more pleasant, you need to choose the correct condom size. The average options are not suitable for everyone. The size of the condom must correspond to the coverage of the penis. In this regard, products under the My Size brand have a great advantage. German manufacturers provided for the release of contraceptives of different diameters — from 47 to 69. Payers of penis will be able to choose the right size, whose dimensions are higher or lower than standard. A condom that is ideally sitting on a member will not let you down at the right moment and will not cause inconvenience during intercourse.
An important point that excites both partners is to preserve maximum sensitivity when exposed to the phallus on the vagina. It depends on the thickness of the contraceptive shell, which is indicated on the package:
0.06 mm — normal (for all types of sex);
0.08 mm — thickened (for anal sex);
0.02- 0.04 mm thin (for oral sex).
Polyurethane condoms are considered the most thin. They are 3 times thinner, they are better to carry out heat and do not reduce sensations. But there is a minus — Their price is higher than that of latex products.
Choosing thin, you change sensations. And this is a great way to make sex in a condom is more pleasant.