Sex in water: pluses and pitfalls.

There are two months of summer ahead – it's time to throw all things and go to dachas, resorts or at least for the nearest water bodies. What to do, if Passion covered you right on the river bank or in a shower cabin? What to expect from sex in the water, And what is it worth being afraid? What to take with you to a bath or to the seashore? All pros, cons and pit stones we will discuss below.
Seas and oceans.
Beach, warm sand, surf, sunset … incredible Romantic picture, is not it? In such an environment, the passion for experiments can erupt like a match.
Pros:
Firstly, it's beautiful.
Atmosphere, sounds, smells, views – all this will make you feel like the heroes of a romantic film. Secondly, in water (especially salty) the human body is much easier, you can Enjoy weightlessness and variety pos. Thirdly, such unusual sex can be the most unforgettable moment of your vacation…
Minuses:
…And not only because he was unusually good. Experts warn: hundreds of various bacteria live in water, which can at least break the microflora, at a maximum – seriously shake intimate health.
In addition, you can immediately forget about the condom, because it will certainly slip. Salt water, getting into microcracks and wounds, can cause discomfort ("do not put salt on my wound" – In this case, not only a song, but also a harsh reality). And if you still decide to indulge in passion – without good Silicon -based lubricant not enough. Water will wash off both natural lubricants and water lubricants.
Underwater rocks:
They are there. Literally. And also sea hedgehogs, jellyfish and other flora and fauna. Be careful!
Rivers, lakes and other fresh reservoirs.
Fresh air with fresh air, delicious food and alcohol is often stimulated Sexual desire, and it can bring you straight into the cool water of the nearest river.
What you need to know to "get out of the water"?
Pros:
This is much more accessible. Lucky, who can get to the sea in half an hour with a walking step, incomparably less than those who need several hours by plane. But the nearest lake is a completely different matter.
Fresh water will not scatter wounds on the body. Besides, Passionate sex will help burn the calories accumulated on the picnic.
Minuses:
In fresh water, bacteria feel much more comfortable than in salt.
Add to this all the sealing water listed in the minuses. After such experiments, do not forget to take a shower, paying special attention intimate zone. Be sure to use a special tool for intimate hygiene (for example, Intimate gel is delighted) – He will restore the natural pH and delicately cleanse the genitals, leaving no malicious bacteria of chance.
Underwater rocks:
In our reservoirs you just can't meet! Botches and cans can lift you anywhere.
Bath and shower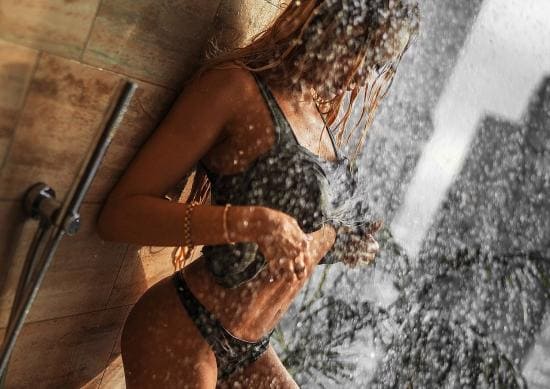 Sometimes, on especially hot days, I don't want to leave the house at all, and everything you are capable of is to sit in an embrace with a fan, making sorties into a cold shower. Or maybe it's better to do it together?
Pros:
Confidentially. Behind the closed door of your bathroom there will definitely be no extra witnesses.
In the bathroom, incomparably cleaner than in natural reservoirs, and the risk of earning troubles is much lower. The sensations from wet bodies of each other can deliver a lot of pleasure, and after violent sex, you do not need to run into the shower and eliminate traces "crimes" – Water will wash off all evidence.
And it also happens a lot of fun!
Manufacturers do not get tired of surprising a variety of bells Sexy games – Fragrant Bath salt and foam, Oils with pheromones and even Edible gels. They really can eat them. Better – right from each other.
Charming ducks I Rub My Duckie from Big Tease Toys Not only will they decorate the interior and amuse, but also add a little positive vibrations to sex, but the baby Cookie from Svakom you can tickle the nipples and beat the soap foam.
Minuses:
Lubrication! Without a tube Silicone lubricant still nowhere, and this rule applies to all cases "wet" sex.
The variety of poses will be limited by the bathroom or shower, so it is better to leave acrobatic sketches and complex positions for later.
And this. Very. Slippery.
Find why you can grab stronger, for the legs-ruh-pop in the wet bath will glide godlessly. We don't want injuries? To become A little more convenient, Buy such a cool support for the leg – she is firmly sticking to all smooth surfaces and a little Expanding the boundaries possible.
Underwater rocks:
The neighbors will be aware of your personal life. And it's okay – let them envy.
Pool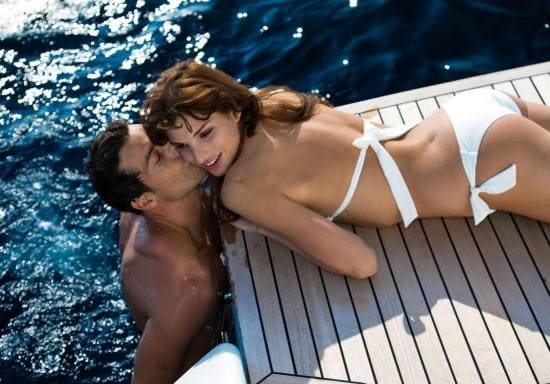 Popular The plot of porn films, which will be decided to repeat, perhaps, only the most elongated extremes or happy owners of a personal basin.
If you belong to one of these categories, it will not be superfluous to study the issue a little.
Pros:
Risk be caught strongly excites – that is why people and have sex In parks, elevators and toilets of cafe. The public pool is also suitable for such games. Plus weightlessness and diversity poses, plus the novelty, which many in sex, to be honest, do not have enough.
Minuses:
Chlorine, which tightly burns all harmful and useful bacteria. All parts of the body are itching from it and the mucous membranes burns unpleasantly, and the delicate genital organs at all risk being laid on the altar extreme sex.
You do not know what the state of water is, how often and carefully the pool is cleaned, who swam in it before you, whether they were healthy. And – alas, but this is life – some people urinate in the pool.
Here, as in other cases, a thorough shower and good means of intimate hygiene cannot be dispensed with, especially women: the microflora of the vagina is an exceptionally fragile. Fortunately, now almost every self -respecting manufacturer of intimate cosmetics has an extensive line of female remedies – up to air conditioners for skin and hair and moisturizing mista.
Additional protection can be antibacterial lubricant with silver and caring components.
Underwater rocks:
A perfectly even parallelepiped with tiles and bottom can be a serious traumatic factor.
With any awkward movement, you run the risk of bruising or swallow water. There is nothing to grab up there, and the saving bottom is quite deep – it will be better if you know how to swim well.
Forewarned is forearmed!
If none of the above minuses scares you, and desire to do something like It occurs more and more often, choose what you like and dare. The main thing is not to forget about the underwater stones.