Shunga. Eastern art of erotic love.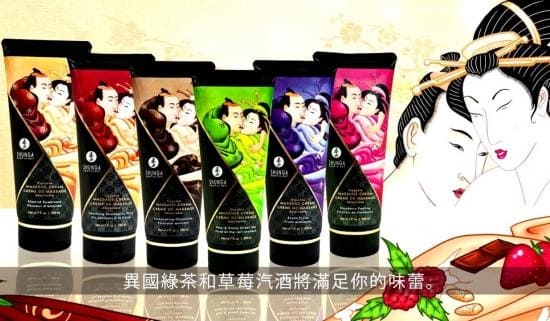 They became a hit almost immediately, as appeared in the European market. This happened a few years ago, and since then their popularity not only did not become less – and to this day this manufacturer remains one of the flagships among the creators of intimate cosmetics. Elite Canadian brand Shunga – Bright, beautiful and often very .. delicious bottles and jars in which the eastern passion is being spilled.
Massage cream
They entered, no, burst into the market with a series incomparable massage creams in iron jars painted in the style of Japanese erotic engravings, and these jars already on their own were peculiar art objects, and the cream is in them … the cream was just edible.
Yes, shunga has still combined incongruous and created edible cream for erotic massage. And it seems that no one did this before them.
This cream, of course, should not be served to the table, but it could be licked from the body.
Safe ingredients that are the same in cakes and cakes, consistency air souffle, the aromas of cherries, vanilla and mint, really pleasant, not a chemical taste (you had to restrain yourself so that this cream is not a spoon!) – Is it worth it to be surprised that he instantly became superpopul.
A little later, Shunga has changed the form of packaging, now this cream is sold In tubes.
The line of tastes has expanded: champagne with strawberries, drunk chocolate, exotic fruits, even a pear with green tea (a very cool combination!)… No one forgot that this is still a massage cream, not dessert?)
In a word, the main thing is to resist and not eat until massage.
So in the wake of the popularity of edible cream, Shunga appeared a whole series Erotic-Art.
And the next thing that entered it is…
Massage oils and candles
"Intimate kiss" – it is also an intimate massage oil, it is Oil for oral caresses.
In the beautiful figured bottles (Here you can find the whole series), packed in gift boxes, this intimate oil was created not only for body massage.
A little creamy, let's say, massage dessert, And slippery fingers run through the body, go down, begin to gently explore all the corners, then the tongue joins them … Yes, yes, it Absolutely edible!
And with the tastes of the shung tried: Shcherbet, caramel, creamy Latte, sparkling Strawberry wine..
However, they tried not only with taste, a little added to this oil Aphrodisiac, the very substances that enhance sexual attraction.
Not just oils, but real erotic Dessert for nights of love, that worth a try.
Another wonderful series from Shunga, – Thin tall bottles with 100% natural -pressed natural oils.
Perfectly sliding on the skin, gently warming or relaxing and soothing – they instantly occupied the upper lines of the hit parades of massage cosmetics, and perhaps now it is now The most popular erotic oils Of those that can be bought in a sex shop.
Sensual, silky, caring and moisturizing, they are intended exclusively for relaxing massage and are not considered edible, although they have Stunningly juicy aromas.
Rose, vanilla, almond, green tea… which of the smells you love more?
Special series – Eastern massage sets.
This, you know, when the massage is done not with your hands, but to everyone Naked body, when touches turn into exquisite caresses.
By the way, such sets have a special waterproof sheet included, it can be laid on the floor. So even in the bedroom of an ordinary apartment you can arrange a salon of a real oriental massage)
You love A living fire of candles?
And if not wax is heated in this fire, but massage oil?
Everything is very simple: you light the candle and the romantic aroma of chocolate, roses, strawberry wine is spilled around the room ..
When burning in a candle, oil melts. Pour it a little on the palm of your hand, right from the candle.
It is absolutely not capable of burning, it is safe, it is thought out, there is a special formula that does not allow the oil to heat up above the temperature comfortable for the body.
Pass your palms over your body – feel how warm, easy and gentle It rubs into the skin, and give this pleasure to the one you love.
Such candles are released In two formats – classic, over time of combustion up to 40 hours, And in the format of the mini – everything is the same, just enough hours for 7.
Such candles can be used both for massage, and just to create an erotic atmosphere.
Exciting creams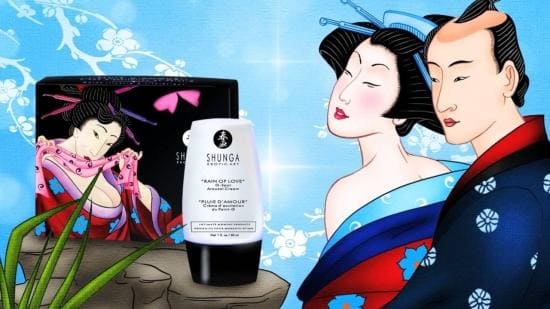 A special series of intimate cosmetics from beautiful Canadians – exciting creams.
For women:
Secret Garden, "Secret garden" – Super Cream for the clitoris, increasing its sensitivity and enhancing sensations from caresses.
Rain of Love, The name speaks for itself, "Rain of love", special cream for dot g, created for those who are difficult to achieve vaginal orgasm.
And this cream is also able to help a woman understand what it is Squirting 😉
For men:
Balm-Prolongator, prolonging duration of sexual intercourse.
And already becoming the legendary Dragoon cream, he – "Fire and Ice". It has a very interesting exciting effect: at the same time warming and cooling, in short, you must try to understand how it is.
There are in variations Virility And Sensitive.

In fact, it is very conditionally called male, because in fact acts on both partners.
Applied to the head and along the entire length of the penis, reveals all male energy and strengthens the strength, in other words, to stand with this cream will be much stronger and stronger.
With frictions, the cream enters a woman, increasing her sensitivity and helping faster achieve orgasm.
Schunga also has an exciting gel from mutual pleasures Lotus noir, acting as a stimulator with a light cooling effect.
And a rather unique thing – lip.
It is applied to the lips, with oral sex, exciting substances do not hit the head … this Sensual explosion For both partners.
Luburbicants for sex
SHUNGA also releases very good Luburbicants, Premium quality.
The line entered:
Luburbicants Toko Aqua And Toko Silicone – Classic lubricants for sex and silicone basis (silicone lubricants are longer playing, due to which are ideal for anal sex;but slightly worse washed off with water)
Toko Organica – water -based organic lubricant with the addition of glycerol, that is,, With the effect of softening skin.
Toko Natural Contact – sensual lubricant, most repeating natural female lubricant, for the whole "natural" Feel.
Toko Aroma – Oral lubricants With different tastes. We will look at them closer.
You know why the edible (they are oral) lubricants are invented?
Oral sex becomes much tastier with them. And for girls – also easier)
Yes, yes, we all know that there is saliva for this case. But it happens that, for example, the dignity of a man of exceptional size, and then it can be very difficult to completely accept, especially during oral sex. But with lubrication this is easier.
Or when the partner does not seek to finish faster, but wants Extend the pleasure, just saliva becomes few.
And again – you just need to take a lubricant, oral, pleasant to taste.
And men … men will probably like the dessert. Girl with the taste of cherries or mango – isn't it fine.
And by the way, if a partner avoids oral affection (alas, not everyone likes a natural intimate taste), try to seduce it tasty and edible grease.
For a bath and a shower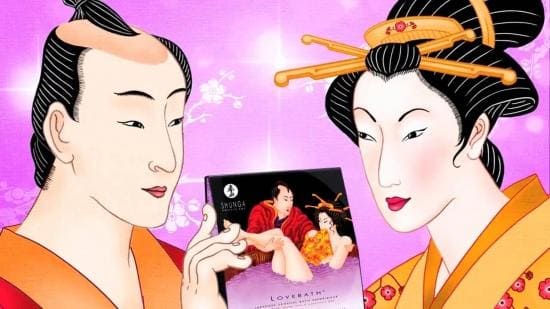 Where it is worth starting – with a thing that you can't meet anywhere else and no one, and now it will be strange.
Jelly for the bath. For some reason, few people know about him. But this is a bomb!
Almost magic: you pick up water into the bath and pour a bag into it color powder, which is literally before our eyes turns water into jelly.
Yes, a small bag. Yes, the whole bath. Yes, naturally in jelly.
And you lie in this warm, colored, thick jelly, feeling how they roll over the body The smallest soft balls, You pick up in your palm, pass through your fingers … This is some kind of very … even a ritual thing, the present Tactile happiness For someone who considers himself a kinesthetus and feels the world through touch.
And then … then you just need to pour a second bag into the water and jelly will again become ordinary water.
I'm telling you – magic)
Three types: jelly can be pink, blue or purple.
Fly in such a bath together, it will be a very memorable moment!
More Shunga releases Bath salts different colors and smells, and shower gel.
Special romance Shunga
And finally – a little rather unusual, very beautiful and romantic gizmos, which, by the way, may well become a very cool and memorable gift for a loved one.
Paints for erotic body art, goodies that can be written on the body with a whole Poem of love, and then gently lick her tongue.
Body powder With a brush of feathers included. Sprinkle with sweet powder in intimate places, tickle with fats, and then give unforgettable oral sex.
Shunga also has great Gift Baskets – This is when in one set all that can please.
For example, in a set "Eden garden" There are oils, and lubricant's salt, and a lubricant, and exciting gel ..
And the name of the set "Farmers" speaks for itself: it has everything that with which the nights of your love will become completely unforgettable!