He didn't get up. What to do to a woman?.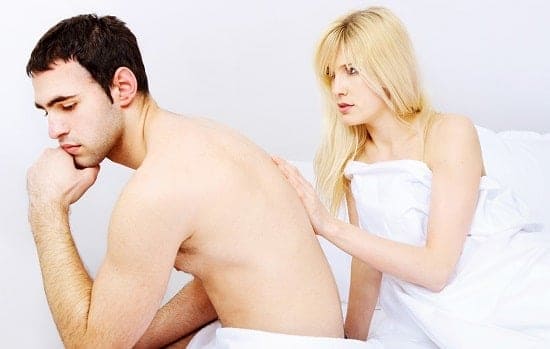 85% of men over 30 years old had a situation when he could not be excited in bed or the erection was weakened and the full penetration did not work. This happens, it's hard to fix. But in such a situation, a woman needs to react correctly. What to do so as not to offend him and not destroy the relationship?
Age and libido men
Statistics claim that the older a man, the more often he happens "misfires". At 30, these are isolated cases, in the age of 60-moments that may take shape in 17-34% of sexual intercourse. Therefore, any woman can face a similar problem, it is better to prepare for her in advance.
The reason for an unsuccessful attempt often lies in moments that are not related at all. For example, stress, lack of sleep or improper nutrition can harm excitement. The mood, fatigue, bad habits also affect male power. And an important factor is the fear of a partner.
What to do when the penis does not rise
The rules of conduct are very simple, you need not to injure a person, to support a man in such a piquant situation. What actions will be appropriate?
Give up many attempts. If it doesn't work out, but he still has enthusiasm, then arrange a long prelude. Erotic massage, long kisses, hugs. This will help him relax, help to find strength. But if he no longer wants anything, you do not need to insist and make more attempts. The more of them, the more difficult it is for a man to come to terms with the situation.
Be near. Do not leave, do not be distracted on your phone, do not try to translate the topic. Do not ignore what happened or repel a person. At this moment it is much worse, and therefore it is important to stay nearby.
Banal phrases. They sound strange, but in the moment they are very appropriate. "Do not worry, the next time everything will work out", "It happens, it's not scary" – this is what really helps. But just do not continue them and tell stories how someone else had the same problems. Statistics that may remember will not help. Just general words of support, this is enough.
.

.
Distract. When something has already been said, some understanding has been achieved, it is necessary to switch attention. The easiest way to fall asleep if the matter takes place at night. You can drink to get distracted and talk heart to heart. Sometimes it will not be superfluous to eat. Any lesson not related to sex will be appropriate.
Try again. But at another time. Ideally – in the morning, when physiologically, a man has an erection. Can at the next meeting. But it is important to warm up interest in each other, arrange an exciting date. The girl will be appropriate to put on stockings and beautiful linen in order to "get" a partner even more. It is important to prove to him himself that he is all right, and past experience is an accident.
What can not be done when he does not get up
The absence of an erection is a tragedy for a man. He is afraid of this situation, and often does not know how to react to her. And it is important not to make mistakes at such a moment. There are things that cannot be done:
Laugh. Even if these are nervous shoes, it is important to suppress them. Such a reaction is completely inappropriate, it will cause resentment or even psychological trauma.
Tell stories. Comic or serious about other people is not worth. It is not recommended to remember any jokes on this topic. It is unlikely that he wants to hear something about the sexual capabilities of someone else.
Run away. Even if you are little familiar, even if it is a meeting only for sex, it is still important to support it. You need to devote 10-30 minutes to communication to smooth out the negative. You can leave only if a man behaves aggressively.
Accuse the man. This behavior is rare, it is characteristic not very prosperous couples. Phrases: "All this is because you are thumping" or "This is due to the fact that you are cheating on me" do not contribute to the establishment of communication, but only aggravate what is happening.
In society, it is believed that a man is less prone to the manifestation of emotions. But if he does not express them, does not mean that he does not feel. And if there is a sensitive situation, you need to try to find a way out of it, which will suit both.