Nipples clamps. How to use them?.

Nipples stimulation causes pleasant sensations. But during sex it is difficult to return to the chest all the time. Therefore, clamps for the nipples are created that Give constant exposure, Strengthening excitement.
Nipples – This is the strongest erogenous zone on the human body. At the time of their stimulation, a person receives not only pleasure, but also A brighter orgasm. The appearance of the clamps excites a partner even more, adding acute sex.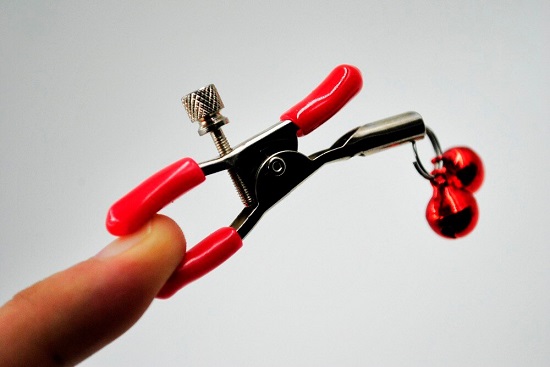 Varieties of clamps
Many people believe that only fans of BDSM use breast clamps, but this is far from the case. There are several varieties of such accessories that have a different force of action and bring different sensations.
Adjustable. Similar clamps are used by novice pairs, since the pressure force is regulated by screws. As well as these models are equipped with a latex coating that mitigates the pain. More experienced partners and people with a high pain threshold prefer clamps without adjustment and latex.

Accessories with magnets. Tenderly acting and easily used attribute, which is suitable for women with large nipples. On smaller nipples, the clamps simply will not hold.

Model with a chain. Sex toy brings pleasure due to touching the product to the body or erogenous zones. And you can pull the chain to enhance the effect. It looks stylish.

The vibrating mechanism. A feeling of ecstasy will bring clamps with vibration. The nipples feel not simple pressure, but also the internal waves from which the body is excited more.

«Clover». More powerful clamps giving acute emotions. Such an accessory is not recommended to leave for a long time on the nipples, as it violates blood circulation.
You can choose any form, all kinds give pleasure. Pay attention to STIT to the appearance, the model should like.