"Monkey" – 9 pose in sex.
Pose 9 in sex has the name "Monkey", however, if you look at the technique of execution, then there is nothing in common with these primates. And it is worth noting that real acrobatic skills are needed for this position.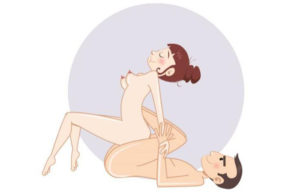 Monkey in Kamasutra – Sex on a tree?
Porn pose 9 demands that the man lay down on his back and bent his knees, bringing them as close as possible to the chin. The girl sits on him from above, as if on a chair, turning her back to his face. At that moment, penetration occurs. It is desirable that she rests on her feet, since it will be easier for a man, but this whole pose is quite complicated. After the girl took up a position, she begins to move up and down.
Pose 9 "Monkey", of course, is very unusual, but its effectiveness is that there is a very deep penetration of the penis into the vagina. However, the girl needs to have good physical preparation and a sense of balance. In order to increase the comfort of a monkey posture, a woman can grab a man's wrist, as demonstrated in the picture, so she will be easier to keep on top of the partner. There are a large number of such exotic positions in Indian scripture, many of them can be seen in the photographs of Pos Sex.