21 pose "Hero" in intimate life.
Why is the pose 21 named "hero", for someone it may be an incomprehensible moment. But if you look closely at the picture, it really seems that a man in such a performance is like a hero that conquers his woman and towering above her.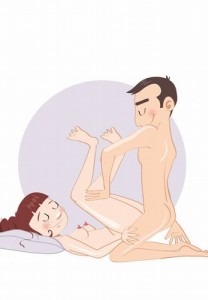 Pose 21 sex – no extra movements
So, for the performance of the pose, the hero in sex, the woman fits on the bed with her back, bending her knees to the chin so that her feet look up. The partner is comfortable opposite her, on his knees. At this moment, he penetrates and begins movement. For more convenience, he can grab on her hips during sex. This way to bring diversity to sex is quite effective and does not require superptions.
Here, a leading role is assigned to a man, he completely dominates the girl and controls both the speed and the depth of the member entry into the vagina of his partner. There are no tricky moments in the pose 21, so you can completely rely on the picture and try to repeat it with your partner. We wish you good luck and a pleasant night in this and other interesting poses!