Kamasutra Pose 23 – Jump like a "frog".
Pose 23 Kama Sutra called "frog". And the woman in the pose of 23 really looks like a frog, and the man – to the one who caught her.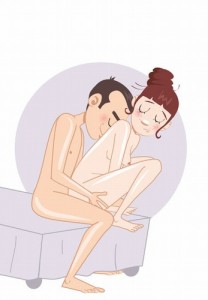 Frog pose in sex – for an energetic partner
To fulfill 23 Pose of Kama Sutras, A man should sit on the corner of the bed or a similar surface, putting his legs on the floor. The partner is seated between his legs: so that his face looks at her back. The girl's legs remain on the bed, she squeezes. After that, the man penetrates the woman, and she begins to move, setting the pace and depth of the entry of male dignity in pose 23.
For more comfortable conditions, a man must support the woman with his hands by the hips, but his lips will be free, so he can safely kiss her in the neck. For a man, this one The pose of the frog Kamasutra, Of course, it will seem easy, but the woman will have to get up. For a long time she will not be able to withstand this sitting, but as an intermediate moment this position is ideal. The main thing is to remember about safety, so a woman should not go into the courage, vigorously jumping up and down – this can adversely affect the male genital organs. To relax the woman after the active pose of the frog in sex, there are many calm positions.